In early 2019, I gave a talk at a "bLoCkHaiN" conference in Brisbane, Australia entitled; "Blockchain is dead; The Future is on Lightning". I had too much to stay, so turned the extra content into a PDF handout that was very well received by the audience. "Finally!", I was told. "Something written that makes sense, and is not full of nebulous promises, mired in a buzzword salad, trying to sell me something".
This inspired me to turn it into an annual collection of essays, published for free, as a sort of side-project-hobby.
Later that year, I brought together a series of writers who I thought were some of the best in Bitcoin, including Robert Breedlove, Rory Highside, Hass McCook and Gigi, to produce the first collaborative edition (Edition #2).
Today, The Bitcoin Times is a publication with a mission:
To produce, collect and publish rare, timeless and unique content from the best minds in and around Bitcoin.
The goal is Quality over Quantity, so we will do one annually, for 21 years.
Pure Signal across 21 Editions.
The Bitcoin Times is available in multiple formats, which you can learn more about below.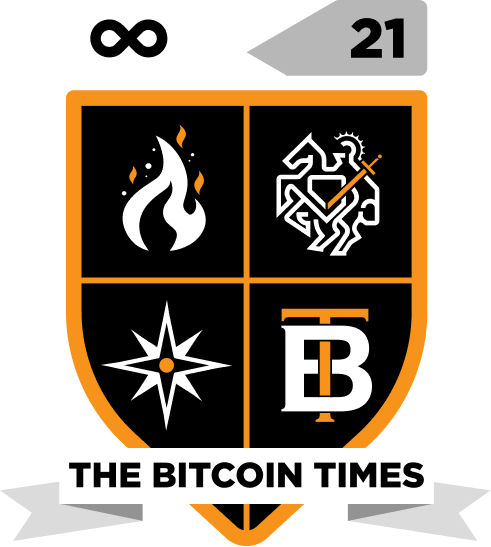 It's incredible right?
You can thank Parker Lewis for pushing Makena and I on the design.
Matt Snow also helped with refining it toward the end.
The symbolism is powerful and multifaceted.
The Flame represents energy. The universal currency. It also represents fire; the discovery-invention which arguably started humans down the path of sentience. The elemental force Prometheus stole from the gods. Bitcoin is the information element. It is an energy that may well be as significant to humans as fire.
The Knight represents the Defender, the Warrior, the Noble and the Propertied, Sovereign Individual. Knights were the original property owners and Vanguard's of Civilisation. Bitcoiners are their modern equivalent.
The North Star represents Truth and Righteousness. If there was ever a technology that embodied these ideas, it is Bitcoin. The map not only represents the territory, in high fidelity, but those individuals who discover Bitcoin are compelled toward the endless discovery of greater Truth.
TB represents Time, Bitcoin, Truth, Beauty, Trust and of course, The Bitcoin Times.
The Shield embodies all of these and represents the wall of defense created by each individual and node on the network. We are each individually, and together collectively; Bitcoin.
21 is the magic number. It is one half of the ultimate answer to "Life and the Universe", in the same way money is one half of all transactions and value. It is the elegant figure chosen by Satoshi and made sacred by the instantiation of a global network of consensus.
Infinity represents Time; our most valuable asset. It represents the ineffable. The infinite potential of humanity and of what we can achieve on a Bitcoin Standard. Coupled with the number 21, it represents the ultimate equation. Everything there is, divided by 21 million; coined by Knut Svanholm.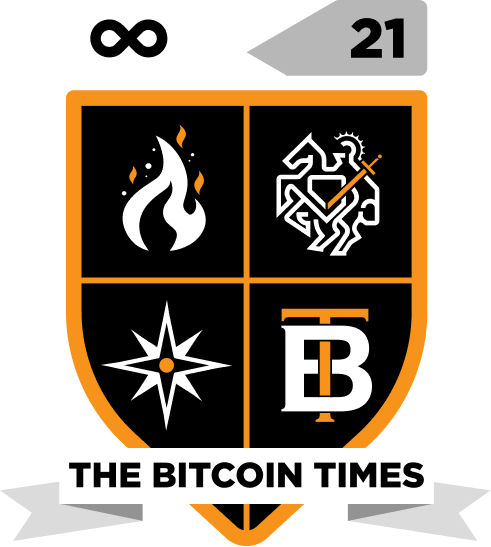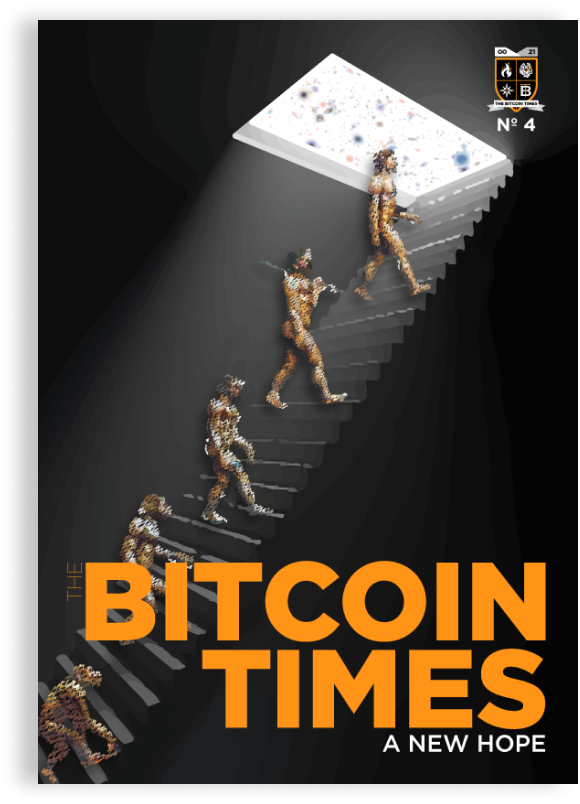 ---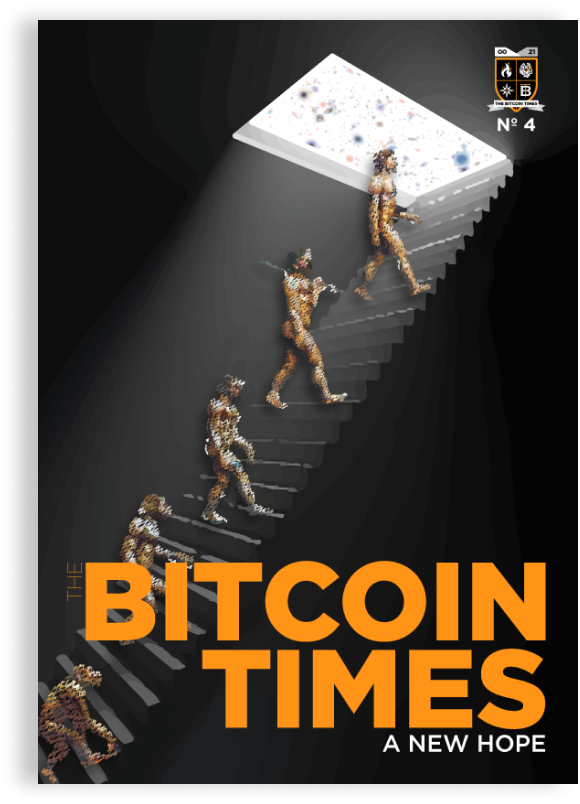 Produced as an ultra-high quality, limited edition print run of each edition, The Collectible is the best way to acquire and consume The Bitcoin Times.
This premium Edition is printed on thick, matt finished paper. A real, prestigious physical NFT, not just some digital file that can be reproduced at no cost.
There will only ever be 2100 of each Edition ever printed.
Each of these 2100 prints is uniquely numbered so that you know you are purchasing the one and only original copy with that number.
The following 8 copies of each Edition will be auctioned off annually, on The Bitcoin Times Shop.
They will also come with a special collectors certificate of authenticity.
0001/2100
0021/2100
0210/2100
0420/2100
1031/2100
1111/2100
1984/2100
2100/2100
These are not cheap, run-of-the-mill prints, and as such; they are not cheap.
Every new edition of The Collectible is priced in Sats at the time of release (circa $40-$60), and this price, denominated in Bitcoin; remains fixed. As the purchasing power, and therefore exchange rate of Bitcoin increases, so too will the value of The Collectible.
For this reason, you may want to order more than one…
Each order comes with a set of Bitcoin Times Logo stickers, and each year we will look to enhance the experience. I know for a fact that this collection of Bitcoin content is the best you will find anywhere in the world, and I hope you will appreciate how we've packaged it up as The Collectible.
The Paperback
---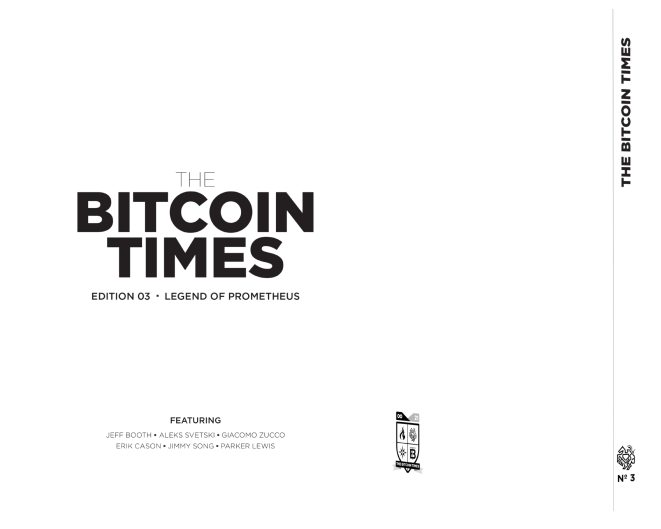 Bitcoin education must spread far and wide.
We decided to leverage Amazon and the traditional book format to help with this.
The Paperback is a beautiful, minimalist-design version of each Edition of The Bitcoin Times, formatted as a 6 x 9 book. Available of course on Amazon, the price point is designed to make the content more accessible in physical form.
Being part of a larger series, it also makes for a great addition to any Bitcoiner's library. In the end, you'll want The Collectible and The Paperback on your bookshelf.
Soon to be available as Kindle and Hard Cover versions on Amazon.
Sign up to the mailing list to be notified.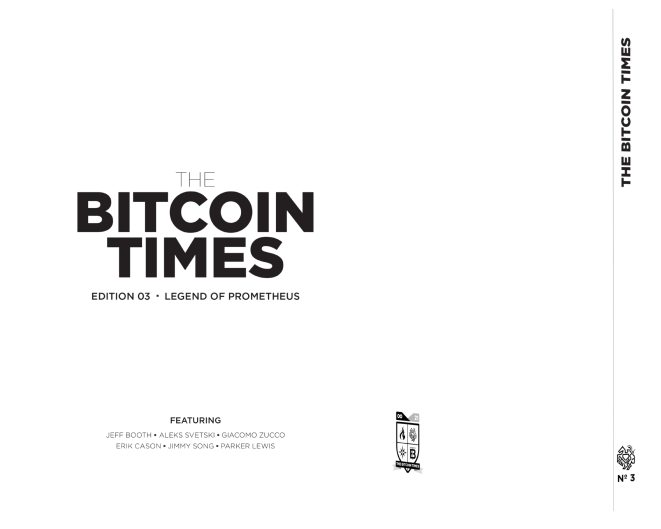 ---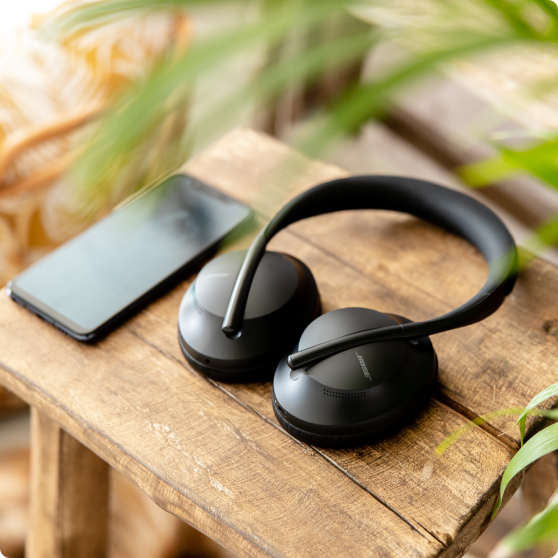 As the name suggests, each Edition of The Bitcoin Times is available as a professionally edited audiobook on Audible.com. Read by the great Shane Hazel, it is by far the easiest, most seamless way to consume this content, and also get access to bonus audio material not available elsewhere.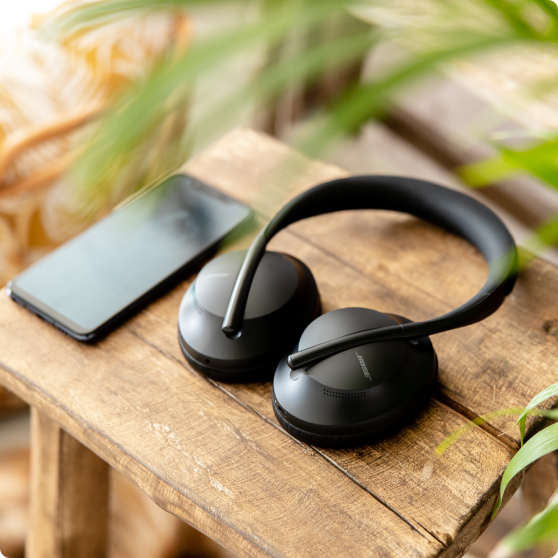 ---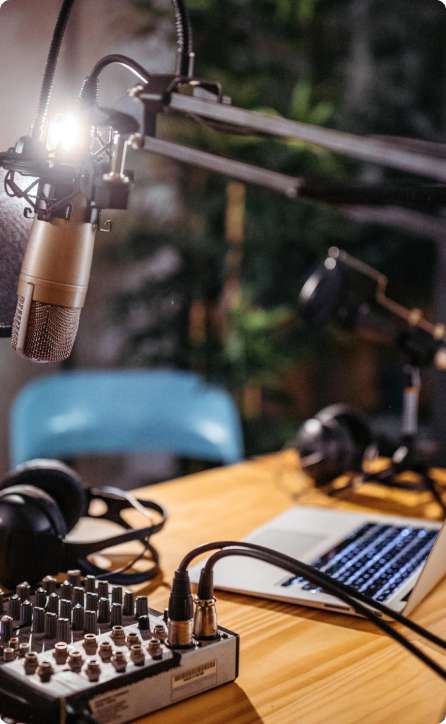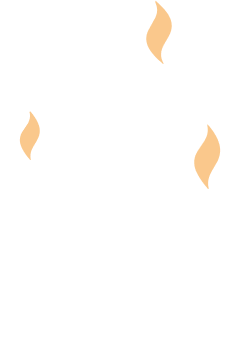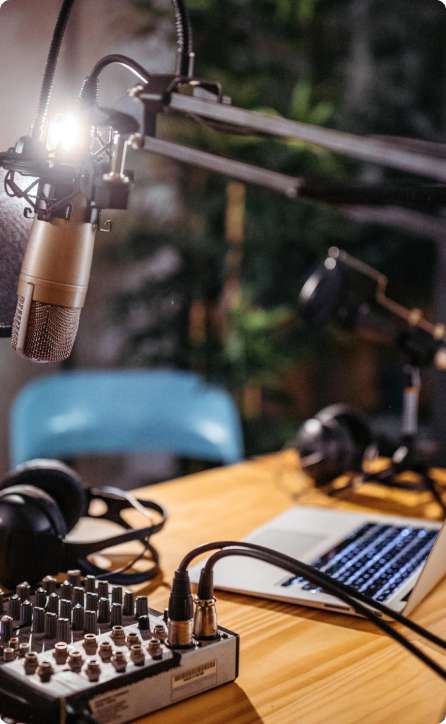 There are two playlists.
Playlist #1 is a series of podcast episodes in which Aleks interviews each author to discuss their essay in greater depth.
Playlist #2 is each Essay read by Guy Swann on Bitcoin Audible, or Aleks Svetski on The Wake Up Reads. If reading is not your thing, this is a great way to consume this content.
Every episode is available on all major podcasting platforms, but the playlists are created on Spotify (for ease) and The Fountain App.
We encourage you do download Fountain, Breez or Sphinx as a way to consume podcast content and get plugged into the value for value community.
---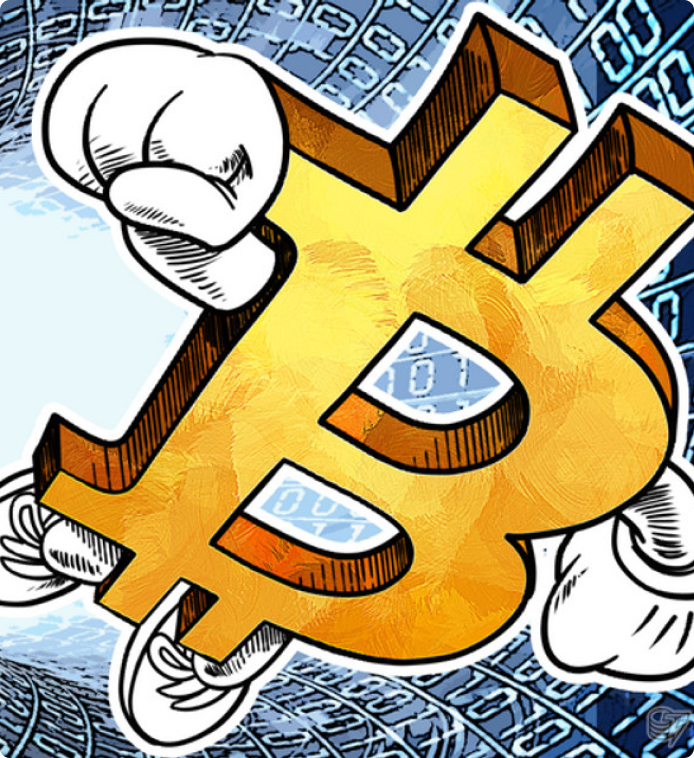 Each individual essay, by each author, from each Edition is available in The Essays section of the site.
Brows by topic, author or Edition.
If you like what you see, you can support our work by boosting some sats on the actual essay page, or of course you can pick up a printed edition; whether The Collectible or The Paperback.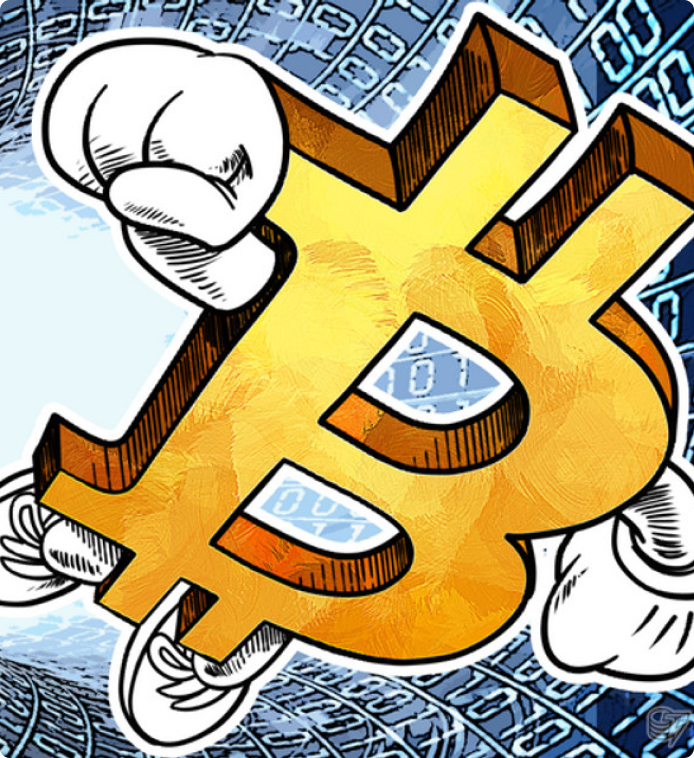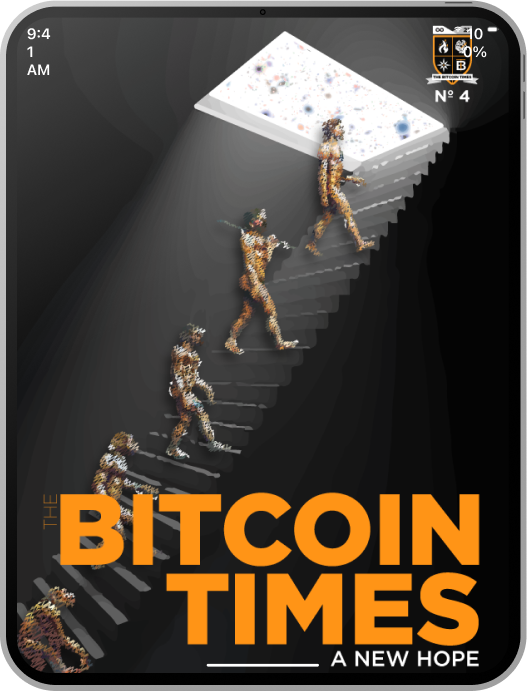 ---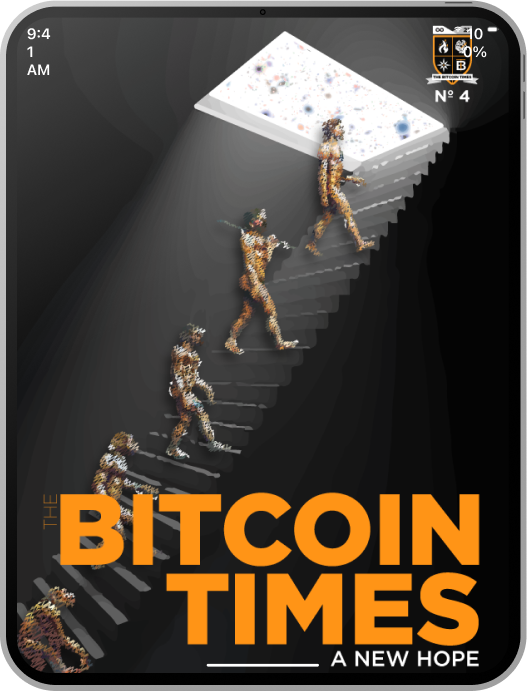 A full colour, lower resolution, digital version of The Collectible.
We offer this because we want everyone to get access to The Bitcoin Times, no matter your financial position.
You can unlock each edition for a token amount of Sats when it goes live on the 31st of October each year.
No Sats? Get it free in exchange for your email address.
Future tips are welcome, and your paying it forward will ensure we can always distribute it online for free.